HealthLink: How many people and organizations did we provide the assistance during 4 months of full-scale war in Ukraine?
After Russia launched a full-scale invasion of Ukraine along the entire length of the common border and from Belarus on February 24, more than a third of Ukrainians had to leave their homes.  By now, it is the largest people displacement crisis worldwide. According to official data, ~15.7M people are in need, ~9M people are now refugees and additionally ~6.3M people became IDPs.  
War not only brings loss and damage, but also forces us to respond quickly to the most actual needs and to come up with new ways to work effectively in difficult conditions. The HealthLink  project has been implementing since October 2017 in 12 regions in Ukraine exerts an unprecedented influence on the prevention of HIV infection at the national level, as one in three newly detected cases is involved in testing under the project. Moreover, HealthLink is the Ukraine's largest healthcare project for USAID due to the facts of unique scale, efficiency, achievements at the national and regional levels: >350 health care facilities (HCFs), 27 non governmental organizations (NGOs), and >2,000 experts are engaged  annually.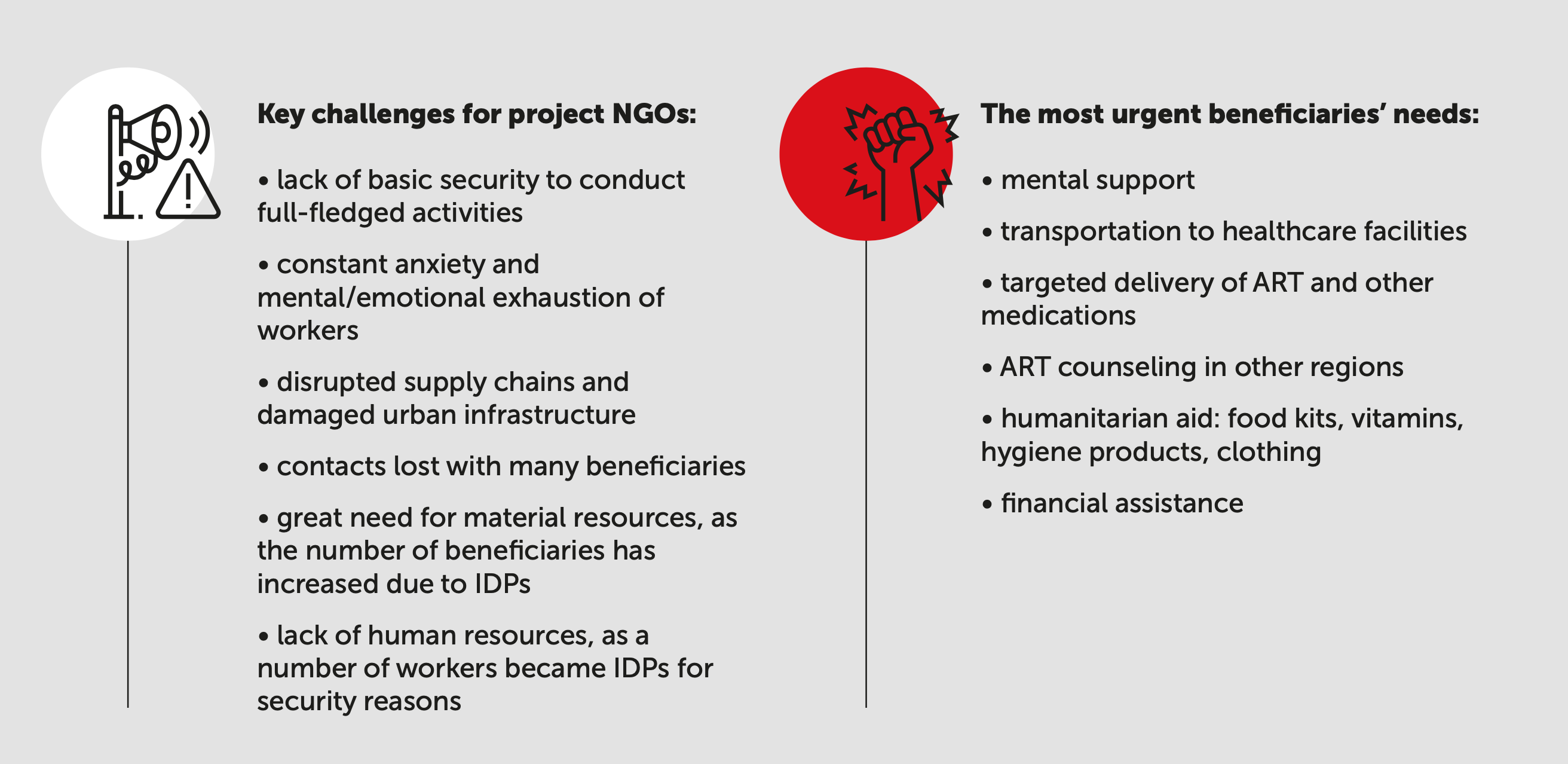 The humanitarian situation throughout Ukraine is alarming and keeps deteriorating rapidly. In a number of settlements, civilians have no access to water, electricity, sanitation, medical care and live in a situation of constant fighting and bombing, with no guarantees of safe evacuation.
Security concerns, limited mobility, disrupted supply chains and massive displacement of people are having a direct impact on healthcare. Armed attacks constantly affect healthcare facilities, medical transport vehicles, warehouses, and most importantly, healthcare staff and patients, who are often completely deprived of emergency care. ~12.1M people need medical assistance, ~750 hospitals have been destroyed or damaged, and in addition to this ~390 attacks were done on HCFs, warehouses and supplies and medical transport.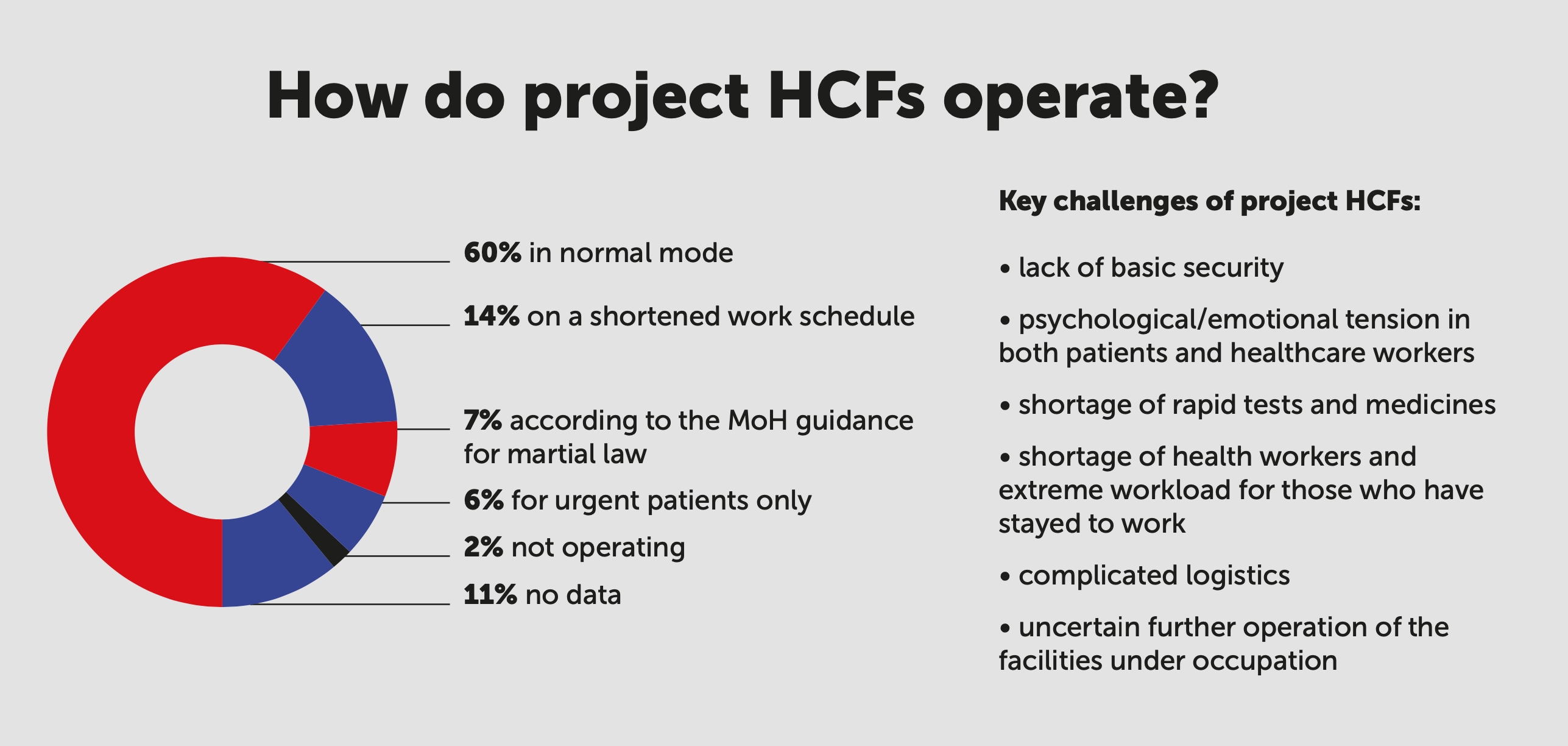 Obviously, the full-scale Russia's war in Ukraine made adjustments to the activities of partner organizations that are implementing the project and forced them to quickly adjust their work to new reality. 23 HCFs have been damaged   and 10% of HCFs are under occupation. The offices of 3 project NGOs were damaged as a result of hostilities. The HealthLink team realized that it was not just weapons that could kill, but also the inability to get vital medicines on time. That's why we fight for people's lives even harder: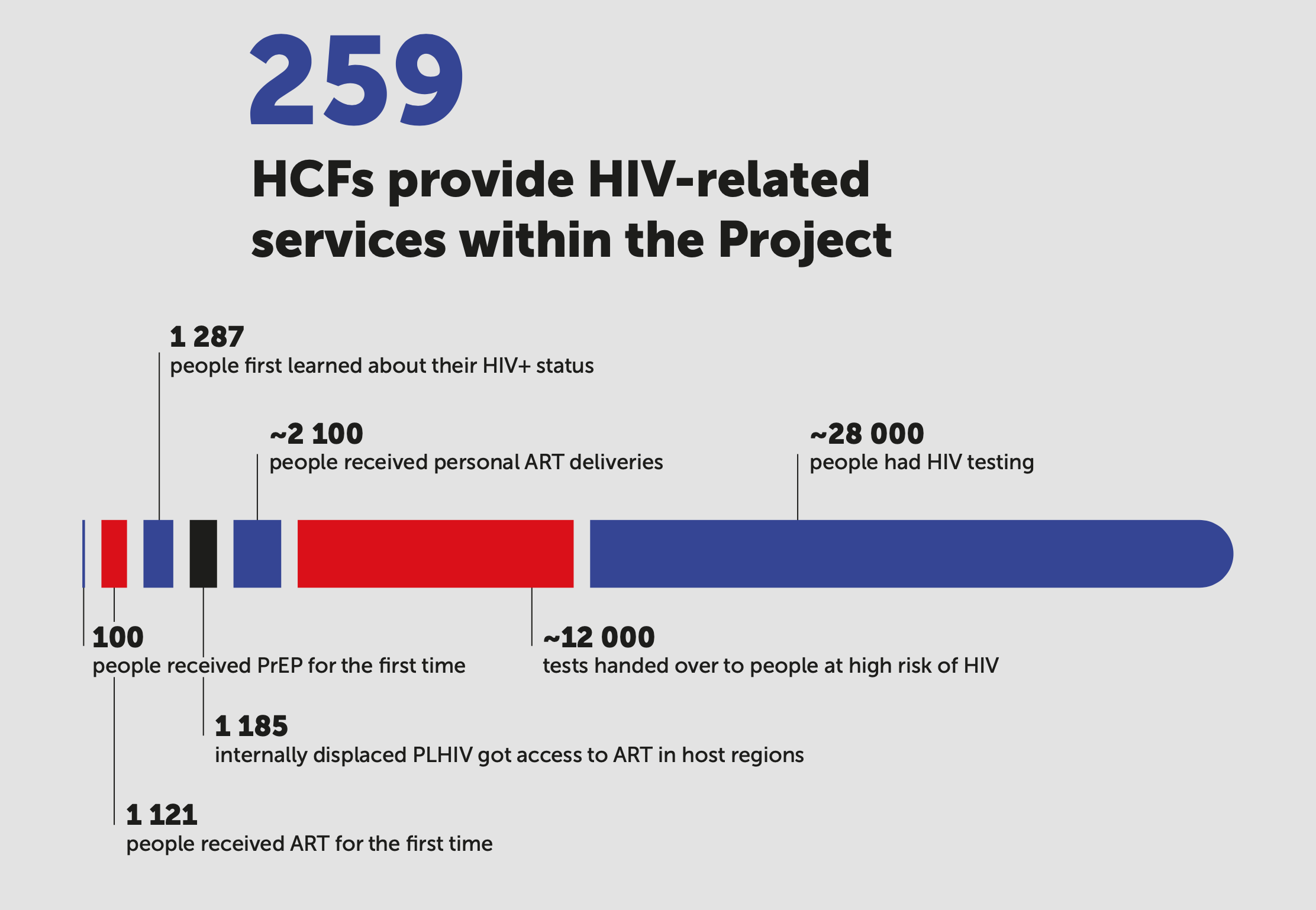 What challenges did the project HCFs and NGOs face, how do they manage to adjust the supply of medications and how does "100% Life" help Ukrainians during the war ー read in the report. 
The HealthLink project "Accelerating Ukraine's Efforts to End HIV" is implemented during 2017-2022 in 12 priority for PEPFAR Ukrainian regions: Donetsk, Dnipropetrovsk, Zaporizhzhia, Kirovohrad, Kyiv, Mykolaiv, Odesa, Poltava, Kherson, Cherkasy, Chernihiv oblasts, and Kyiv. The project aims to improve the access of people living with HIV and representatives of key groups to quality services for HIV testing, prevention, and treatment. The CO "100% Life" implements this project in partnership with ICF "Alliance for Public Health" with financial support from USAID.