About 6 000 lives saved: USAID HealthLink saved every third new HIV patient in 2019
In 2019, 5 886 HIV-positive Ukrainians got to know about their status through the USAID HealthLink project "Accelerating Ukraine's Efforts to End HIV".
This is every 3rd* of all newly diagnosed patients in the country in the past year!
The USAID HealthLink project accelerates the process of overcoming the HIV epidemic in Ukraine, provides an opportunity to pass the HIV test quickly and safely and initiates treatment. CO "100% Life" implements this project with the support of the US Agency for International Development (USAID) and in partnership with ICF "Alliance for Public Health" in 12 most affected by HIV epidemic regions of Ukraine, namely Donetsk, Dnipropetrovsk, Zaporizhzhia, Kirovohrad, Mykolaiv, Odesa, Poltava, Kherson, Cherkasy, Chernihiv and Kyiv Oblasts and the city of Kyiv
More than 330 000 Ukrainians have been tested for HIV for two years of the project.
"We are constantly investing time and money into the education of physicians and social workers: more than 7 500 physicians and 300 social workers are involved in the project. Our main goal is to find those Ukrainians living with HIV who are unaware of it. For two years, we have detected almost 8 500 patients who are currently receiving support. These are thousands of saved lives and families," says Khrystyna Brodych, the HealthLink project director.
Comparing national indicators for identifying new cases of HIV infection with those of the HealthLink project shows that more than a third of new HIV patients in 2019 were found using the project efforts.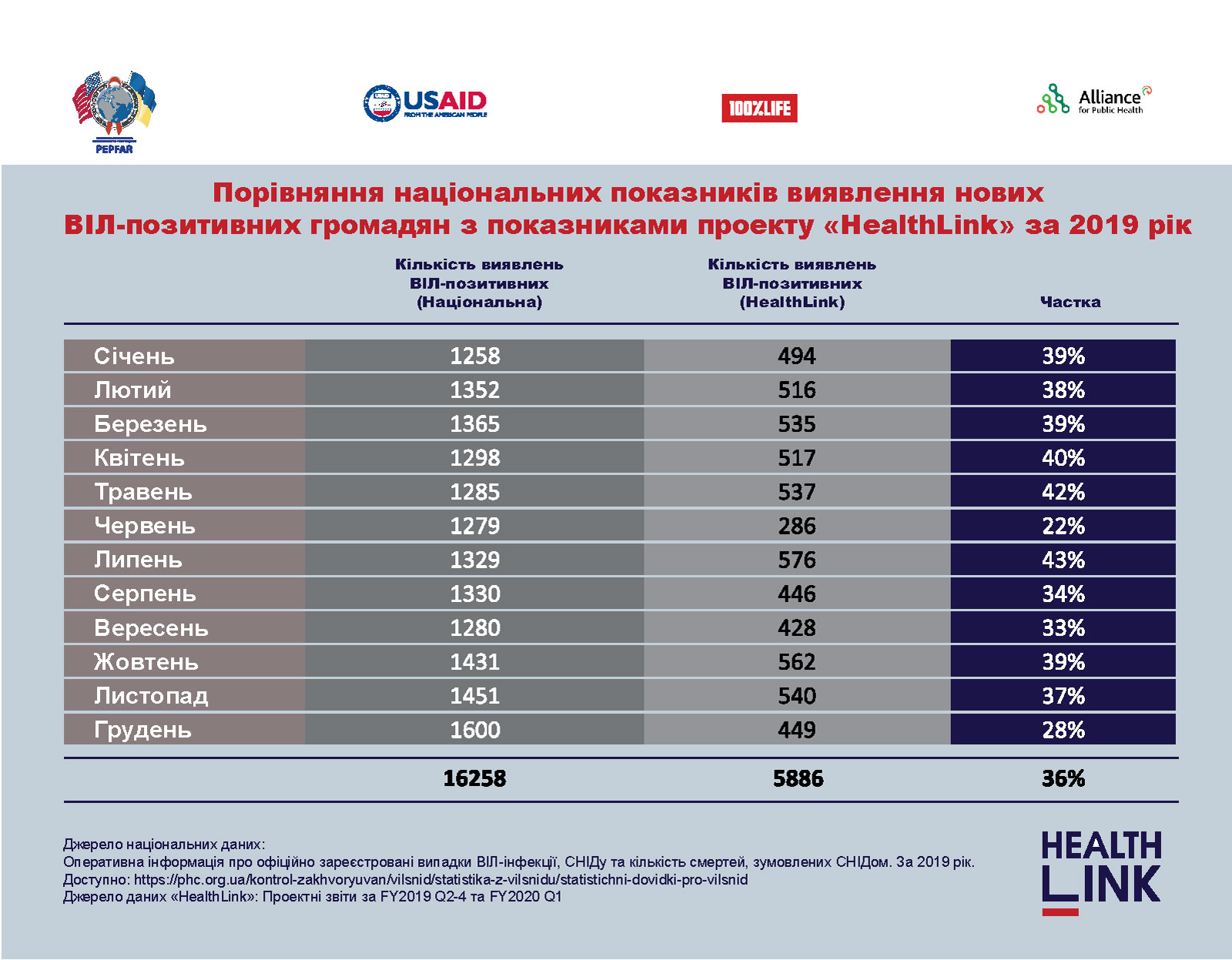 Ukraine ranks as one of the firsts among the countries in the European region in terms of the number of HIV-positive people (PLWH). According to updated estimates, about 238 000 people live with HIV in the country. More than 65% of new cases of infection occur through unprotected sexual contact.
In the early stages, HIV occurs without any symptoms – more than 50% of new infections are detected in the last or penultimate clinical stages when the state of health is already poor.
Timely diagnosis of HIV status and initiation of treatment guarantees long and productive life. HealthLink activities in Ukraine aim to accelerate the response to the HIV epidemic.
The HealthLink project improves service delivery at both healthcare facility and community levels by implementing effective testing models. The project is one of the medical reform elements; it launches a new model of patient care while changing the role of physicians themselves in combating the HIV epidemic in Ukraine.
HealthLink provides services, advocacy activities at national and regional levels, as well as communication activities to increase the demand for HIV testing services.
More than 400 healthcare facilities of Ukraine are involved in the project; testing is conducted at all stages of health care. HealthLink's advocacy efforts promoted the adoption of a new HIV testing and treatment protocol which corresponds to the latest WHO guidelines.
Since 2020, testing for hepatitis C and syphilis has been available. Within the HealthLink project, 20 000 oral HIV tests will be distributed. Thus, more Ukrainians will know about their health thanks to the implementation of multi testing.
Project activities are integrated with the transformation of the healthcare system; HealthLink also provided support to the electronic eHealth system to ensure the stability of patient authentication through SMSs.
We launched the first Ukrainian-language portal prozdorovia.in.ua with key information about HIV and the largest map of testing points in Ukraine.
You can follow the project news at https://www.facebook.com/USAID.HEALTHLINK.PROJECT/
 * According to a comparison of national indicators for identifying new HIV-positive citizens with indicators of the HealthLink project in 2019 (the source of national data: Current information on officially registered cases of HIV, AIDS and the number of AIDS-related deaths. As of 2019. Available at https://phc.org.ua/kontrol-zakhvoryuvan/vilsnid/statistika-z-vilsnidu/statistichni-dovidki-pro-vilsnid
The HealthLink's source of data: the project reports for FY2019 Q2-4 and FY2020 Q1)