The largest building in Kyiv shines red on the World Tuberculosis Day
Ukraine joins the global campaign "Light up the world for TB."
On March 24, on the World Tuberculosis Day, the Gulliver trading and entertainment centre, the largest building of the Ukrainian capital, will be highlighted in red, and the massage "Stop TB" will be projected on its façade. Thus Kyiv will join Paris, Rio de Janeiro, Toronto, Geneva, London, Barcelona and other cities around the world which are connected with the common goal to fight TB forever.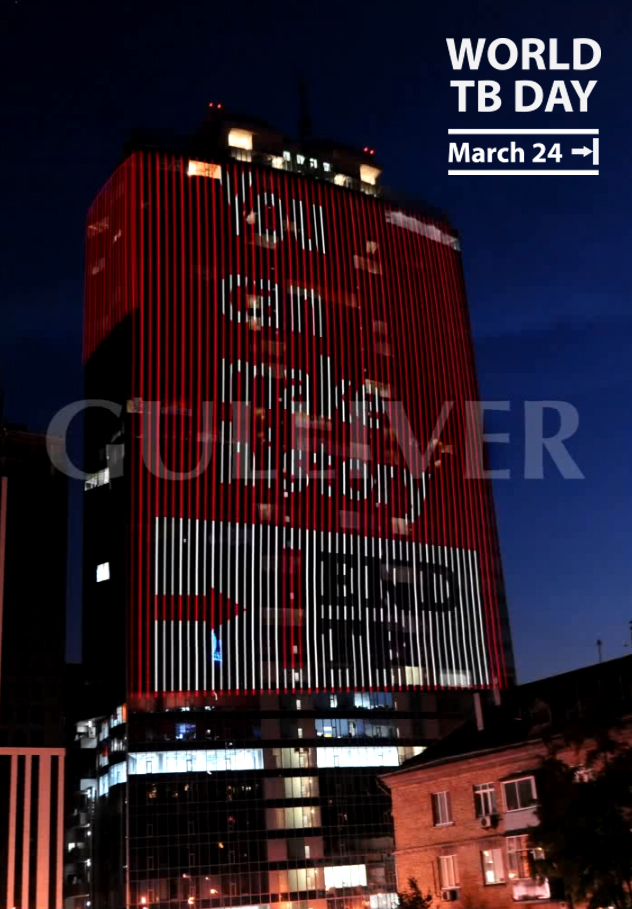 On the eve of March 22, the building of the Verkhovna Rada of Ukraine will be highlighted in red.
Thus, the state, the public, business and patient community demonstrate the seriousness of their intentions to solve the problem of tuberculosis in Ukraine.
Traditionally, every year on March 24, famous buildings or sights, such as the Niagara Falls, the CN Tower in Toronto or the fountain in Geneva are highlighted in red to draw attention to the problem of tuberculosis. On March 24, on the World Tuberculosis Day, the highest building of Kyiv, the TEC Gulliver will shine in red.
We would like to remind that Ukraine remains a country with a high burden of tuberculosis and is one of the 27 countries in the world with the highest level of multidrug-resistant tuberculosis.
The annual world campaign "Light up the world for TB" was launched by the Stop TB Partnership. The action on March 24 in Kyiv is initiated by the All-Ukrainian Network of PLWH with the support of the Centre for Public Health of the MoH of Ukraine, the Alliance for Public Health and TEC Gulliver.
The global appeal this year is "Wanted: Leaders for a TB-free world. You can make history. End TB."