Happy New Year, Prosecutor's Office! Or how does "General Santa Claus" go to us?
The National Police reopened a 3-year-old case to commit a new attack on the largest patients' organization.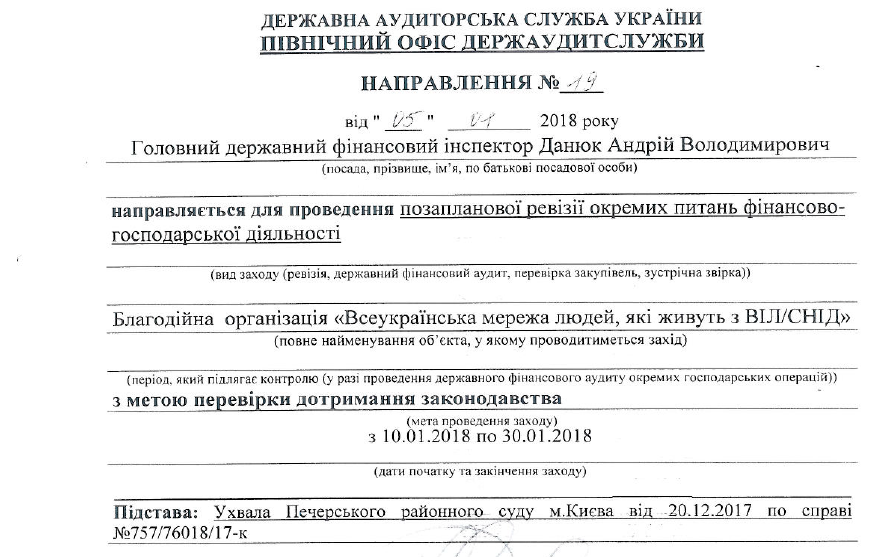 The New Year begins with a new round of pressure on the civil sector. Following the attack in 2017, on January 10, 2018, the All-Ukrainian Network of PLWH received a new decision of the Pechersk District Court to conduct an unscheduled audit. The court issued the decision on the audit of December 20, 2017, on the basis of the appeal of the National Police which was supported by the Prosecutor General's Office of Ukraine (PGO). The ICF Alliance for Public Health also received a decision on the audit.
According to the decision, the court again took proceedings in the old case which was initiated in November 2015. Then the PGO blamed UCDC, the Network and the Alliance for the misuse of the Global Fund's, state and local budgets. In response, the Network provided all documents requested by the National Police in 2015. During two years there were no complaints, and the case was reopened at the end of December 2017.
"It turns into an endless story. The last comprehensive tax audit of the Network, initiated by the PGO and the National Police in 2017, revealed nothing except that the Network submitted one of the monthly reports late in 2015," said Dmytro Sherembey, the head of the Coordination Council of the All-Ukrainian Network of PLWH. "But, apparently, 170 hryvnia fine seemed a little for someone and the next methods of pressure launched. We emphasize that we have international audit annually, including the Global Fund's one. We have nothing to hide! If the State Audit Service of Ukraine has nothing else to do, we will show our documents for the hundred and twenty-first time."
Let's remind that in 2017, the Network and partners were subjected to pressure from the Security Service of Ukraine, the National Police and the PGO. More details about the case you can find following the link: http://network.org.ua/en/2017/10/11/natspolitsiya-vyluchaye-dokumenty-v-najbilshyh-patsiyentskyh-organizatsiyah-aktyvisty-zayavlyayut-pro-tysk-z-boku-vlady /
The Ukrainian Philanthropists Forum recognized the All-Ukrainian Network of PLWH as the largest charitable organization in Ukraine in 2017. The Network openly publishes financial reports and has the annual international audit. There are branches of the Network in 25 regions of Ukraine. The Network helped more than 150 thousand people in 2016.
Please, find enclosed the scanned copy of the court decision of December 20, 2017, and the appointment of the State Audit Service.