A monument to the victims of medical populism will be installed under the VRU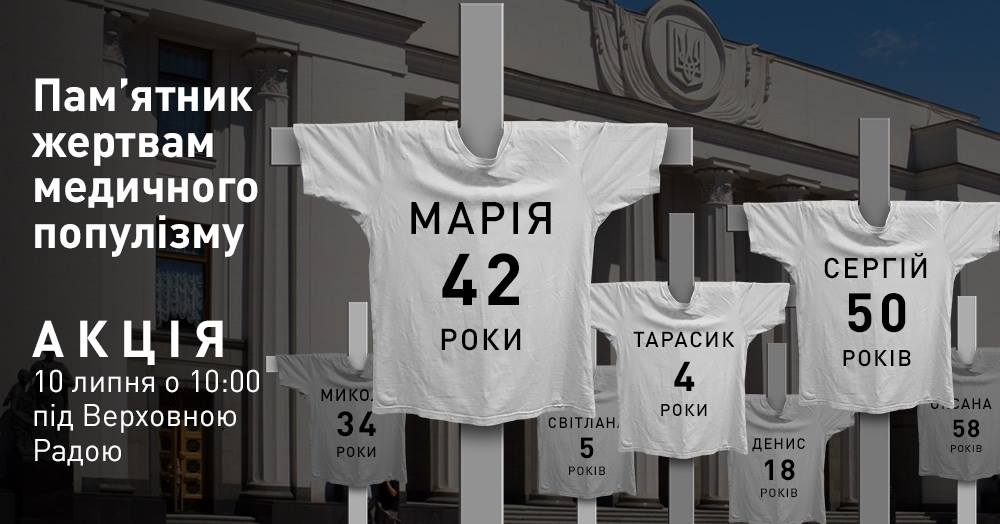 PRESS-RELEASE
A monument to victims of medical populism
Dear journalists,
We invite you to the action "A monument to victims of medical populism". During this event, patients will demand from the Verkhovna Rada to vote for a draft law on medical reform before the parliamentary recess. Otherwise, the medical reform will be postponed for a year at least.
To attract the attention of parliamentarians near the Verkhovna Rada, the patients will set monuments, which symbolise crosses with crucified T shirts with names of deceased people who never received treatment or became a victim of medical errors. The action should remind deputies about the urgent need to launch the medical reform.
After all, about 1600 people die daily in Ukraine because of insufficient treatment, 400 of whom could be saved through improving the quality of medical services.
The action will begin on Monday, July 10 at 10.00 near the building of the Verkhovna Rada of Ukraine. At a press briefing, which will open the action, demands to people's deputies will be announced by:
– Pavel Polamarchuk, CF "Patients of Ukraine", whose 5-year-old goddaughter died because of medical error recently;
– Dmitry Sherembey, Chairman of the Coordinating Council of the All-Ukrainian Network of People Living with HIV/AIDS;
– Irina Litovchenko, Co-founder of ICF "Tabletochki";
– Olga Stefanishina, Executive Director of CF "Patients of Ukraine".
Representatives of the patient community will explain why the reform should be adopted before the parliamentary recess. They will also make clear demands without which the medical reform will not be accepted by the patient community: 1) funding must be cut off from the existing corruption vertical and transferred to a new transparent national institution protected by law; 2) recognition of international clinical protocols; 3) equal access of citizens to finance their treatment throughout the country.
Representatives of the patient community will announce the goals of the united national network if populism defeats the common sense and demands of Ukrainians this week.